Updated 2 December 2023 7:30 AM
Housie anyone? After a seven day truce with the transfer of hostages from Gaza and return of Palestinians from Israel, the Israel offensive in Gaza immediately continued. In a new announcement by the Israel ISD (Israel Defence Force,) Gaza has been split into hundreds of zones so they can advise residents in targetted zones to leave ahead of assaults and bombings.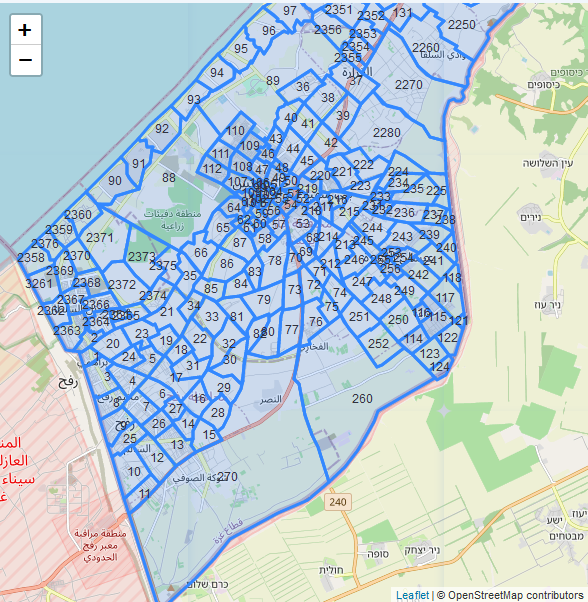 Israel was planning for a long war against Hamas with the objective of killing the group's top three leaders, Yahya Sinwar, Mohammed Deif and Marwan Issa, and destroying its ability to govern in Gaza.
Israeli troops stationed in northern Gaza are due to begin pushing into the south of the territory imminently, the Financial Times reported, citing several unnamed Israeli officials.
As part of its strategy to mitigate criticism, the Israeli military on Friday morning published a map online dividing the 140-square-mile Gaza Strip into hundreds of blocks. The Israel Defence Forces (IDF) said they would announce the number of each block before targeting as a way to alert people in those areas to evacuate.
According to the PLO representative to the UK, this is purposeful genocide. For it to be war there must be an aggressor and a defender. If they are fighting Hamas, why are they killing and displacing so many Gaza residents?
Updated 19 November 2023 3:20 PM
Israel, Hamas reach tentative US-brokered deal to pause conflict, and free hostages.
Israel, the United States, and Hamas are close to an agreement to release dozens of women and children held hostage in Gaza. In exchange, all parties to the conflict would stop fighting for at least five days. The release could begin within the next several days, and it could lead to the first sustained pause in conflict in Gaza. Under the terms of a detailed, six-page agreement, an initial 50 or more of what are believed to be a total 239 hostages would be released in batches every 24 hours. Overhead surveillance would monitor movement on the ground to police the pause. The stop in fighting is also intended to allow a significant increase in the amount of humanitarian assistance, including fuel, to enter the besieged enclave from Egypt 1.
Updated 12 November 2023 8:00 AM
By cutting off its power supply and preventing access to medical supplies, Israel is endangering the lives of thousands of innocent civilians, including children and newborns
Israel's prime minister pushed back Saturday (local time) against calls from Western allies to do more to protect Palestinian civilians, as troops encircled Gaza's largest hospital where doctors said five patients died, including a premature baby, after the last generator ran out of fuel. BY cutting off its power supply and preventing access to medical supples, there is risk of endangering the lives of thousands of innocent civilians, including children and newborns.
Israel has portrayed Shifa Hospital as Hamas' main command post, saying militants were using civilians as human shields there and had set up elaborate bunkers underneath it. In recent days, fighting near Shifa and other hospitals in the combat zone of northern Gaza has intensified and supplies have run out.
"There is no electricity. Medical devices stopped. Patients, especially those in intensive care, started to die," said Mohammed Abu Selmia, the director of Shifa, speaking by phone over the sound of gunfire and explosions.
There is no infrastructure of Gaza safe from the gaze of the IDF (Israel Defence Force) when it comes to rooting out Hamas. The belief that there are significant bases undernearth the main hospital has been perpetuated over and over these past few weeks. Abu Selmia said Israeli troops were "shooting at anyone outside or inside the hospital," and prevented movement between the buildings in the compound.
Five patients died after the generator shut down, including a premature baby, said Medhat Abbas, a spokesman for the Health Ministry. He said Shifa had cared for 37 premature infants in total.Abbas, the Health Ministry spokesperson, told the satellite television channel Al Jazeera that there are still 1,500 patients at Shifa, along with 1,500 medical personnel and between 15,000 and 20,000 people seeking shelter.
Prime Minister Benjamin Netanyahu said the responsibility for any harm to civilians lies with Hamas, repeating long-standing allegations that the militant group uses civilians in Gaza as human shields. He said that while Israel has urged civilians to leave combat zones, "Hamas is doing everything it can to prevent them from leaving."
We totally understand Israel's right to defend its people. The act of Hamas to attack Israel and cause as yet still unfolding suffering and deprevation of human dignity can not go un-noticed. It was not the actions of a group seeking freedom, when the lives of such innocents was brutally changed forever. This can not be ignored.
But this right also goes to the civlians under an oppressive regime in Gaza and to all civilians in the world. The people of Gaza and Israel deserve dignity, justice, and peace."
Updated 5 November 2023 7:00 AM
Two airstrikes have hit a school at a refugee camp in Gaza, killing at least 15 people, including several ,,,,children.
The strikes hit UN-run Al-Fakhoura school at the Jabalia refugee camp, ripping through tents erected for displaced families and killing some women baking bread in one of the buildings.
Juliette Touma, from the United Nations refugee agency in Gaza, said there were children among the casualties, but that the agency had not yet been able to verify how many people had died.
"At least one strike hit the school yard where there were tents for displaced families. Another strike hit inside the school where women were baking bread," Touma said.
Updated 4 November 2023 3:40 PM
Headlines:
Thousands Deported from Israel back to Gaza
Thousands of Palestinian workers from Gaza who were stranded in Israel when war broke out last month have been deported back to the war-torn strip after being expelled by the Israeli government. Despite the fact they were working for Israel companies in Israel.
No phones, money or identity cards were deported into the territory Friday morning via the Kerem Shalom crossing having walked about 2km from the Israeli side of the border. About 3,200 people had been sent back through the checkpoint, which is controlled by Israel and Egypt. An incredibly dangerous situation.
Israel's security cabinet said in a statement that the country was "severing all contact with Gaza". "There will be no more Palestinian workers from Gaza." it said.
There will be no pause in the Israel Offensive
Israeli Prime Minister states: No pause in Gaza fighting without release of hostages.
Netanyahu says 'full force' offensive will continue, despite growing concerns over civilian casualties.
Abulance convoy in Gaza hit three times with dozens wounded and killed
An Israeli strike on an ambulance outside Gaza City's largest hospital on Friday (local time) killed at least 15 people and injured another 60.
The Israeli military confirmed Friday that its aircraft targeted the ambulance, saying in a statement that the vehicle was "being used by a Hamas terrorist cell". The dead and wounded visible in the videos reviewed by The Post included women and children and no weapons or individuals wearing military clothing could be seen. One graphic video, filmed by Gazan content creator Ahmed Hijazee, showed the inside of the ambulance targeted in the strike, including a single female patient lying on a stretcher.
The ambulance appeared to have been one of six in a convoy meant to transport injured patients from al-Shifa Hospital to southern Gaza. The convoy was announced by Gaza's Health Ministry two hours before the strike. In a statement, the ministry said that the ambulances would depart at 4pm local time (3am Saturday, NZT) and would be "carrying a large number of wounded".
It also said that it had not received Israeli approval for the convoy, which it typically negotiates through the International Committee of the Red Cross, and called on the organisation to accompany the ambulances.
At 4.11pm (3.11am Saturday, NZT), a Telegram post by the Palestinian news organisation Alkofiya said that the convoy was on the move. At 4.34pm, the journalist Muthanna al-Najjar wrote in a post that dozens of people were wounded and killed in the strike outside al-Shifa Hospital. The convoy had been attacked three times including outside the hospital where thousands are camped, displaced.
Updated 30 October 2023 12:40 PM
Listen to the live news.
Updated 29 October 2023 8:00 PM
Ground Invasion is real.
– the earth moves and the machines grind by land, sea and air on and underground.
Israeli tanks enter Gaza, massive airstrikes as ground operation moves to 'next stage'
Israel just expanded its ground operation, sending in tanks and infantry backed by massive strikes from air and sea. Israel's defence minister said "the ground shook in Gaza"
Updated 28 October 2023 8:45 AM
Israeli ground forces are 'expanding' activities in Gaza, where internet has collapsed. internet, cellular and landline services have been "blacked out" (aka hit and destroyed.) Regular explosions from airstrikes lit up Gaza City overnight. The Red Crescent medical service has lost all contact with its operating teams and medical centres. The main telecommunications agency, announced a complete disruption.
Our perspective:
We are deeply disturbed by the acts of terrorism that plague our world and the tragic loss of life in needless conflicts. Each person embodies a unique soul on a profound journey, a precious gift that deserves to thrive with peace and autonomy. We advocate for the principle: do as you will, as long as it brings no harm – not to others, and most importantly, not to yourself.
The surge in violence, terrorism, war, loss of life, suicides, and the persistence of poverty and destitution deviates from the envisioned path of humanity holding its own individual sovereignty, ascending to a higher plane of spirituality. Instead, it serves as a stark reminder of the potential for savagery within us. As our late friend, Bill C., wisely said, we must not let our children go hungry. We echo this sentiment: let us not inflict harm upon our fellow human beings.
Terrorism, in all its abhorrent forms, must be eradicated. We cannot progress as a spiritually awakened society while such barbaric acts persist. We support the removal of terrorism and ensuring humanity rises beyond these conflicts.
Embrace life and let others do the same. Awaken to the truth. Peace is universal.
May Peace be amongst you all.
Kevin Spooner, Admin, 2023.
Updated 24 October 2023,10:00 AM
The Palestinian Health Ministry in Gaza said 5087 people have been killed in the enclave since the war began.
A third aid convoy has crossed into Gaza, but officials say it's just 'a drop in the ocean' of what is needed.
Israel Defence Forces said on Monday (local time) they fired on 320 targets inside Gaza in the previous 24 hours.
Israeli planes struck targets in Syria and the West Bank, raising concerns the conflict could widen.
Two American hostages have been freed.
At least 1.4m people have fled homes in Gaza, UN says
At least 1.4 million Palestinians in Gaza have fled their homes, and nearly 580,000 of them are sheltering in UN-run schools and shelters, the UN said Monday (local time).
Israeli tanks and troops have been massed at the Gaza border, and Israel says it has stepped up airstrikes to reduce the risk to troops in the next stages.
More than 1400 people in Israel have been killed — mostly civilians slain during the initial Hamas attack. At least 222 people were captured and dragged back to Gaza, including foreigners, the military said Monday, updating a previous figure.
Updated 22 October 2023, 10:30 AM
No place is safe for a child while intense fighting and hostilities continue. Many children have been killed or injured already, and countless others have been exposed to the violence following days of air strikes. Families are running out of food, water and electricity, and safe access to hospitals and medicine is severely restricted.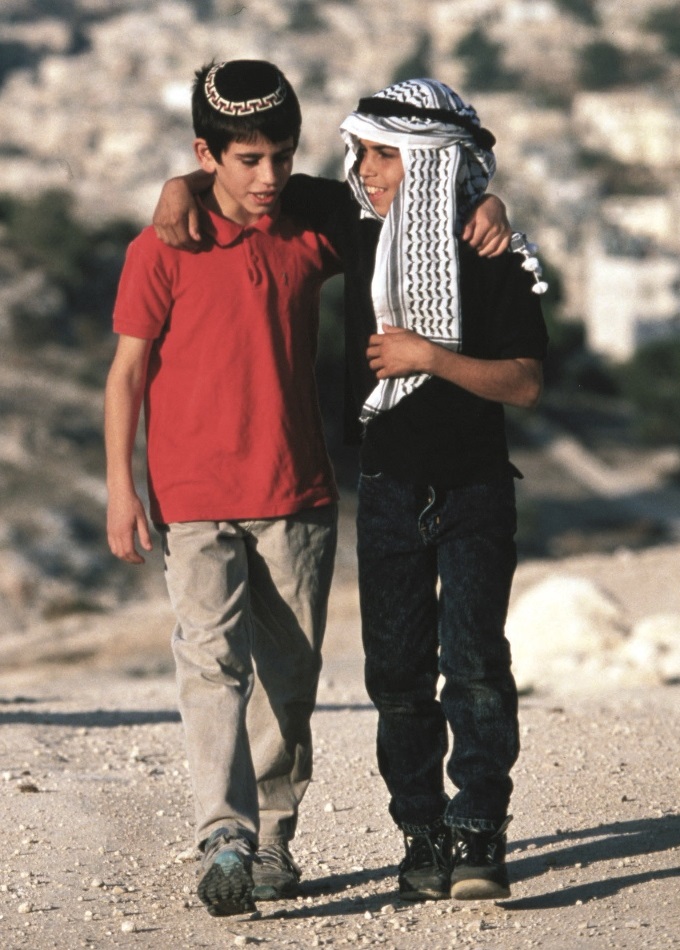 The world is breathing a little easier today with the news that trucks are being allowed in to Gaza via Egypt for humanitarian aid.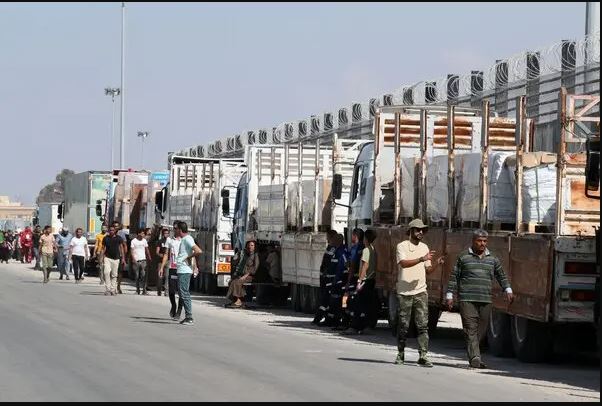 Updated 21 October 2023 10:40 AM
On Saturday 21 October, 44,000 UNICEF-supplied bottles of drinking water – just enough for 22,000 people for 1 day – were driven through the Rafah Crossing as part of a 20-truck convoy.

UNICEF has prepositioned additional emergency supplies for up to 250,000 people at the Rafah crossing in Egypt that can be brought into Gaza in a matter of hours, with more enroute. These preposition supplies from UNICEF include shelter items, medicine and hygiene kits.
Updated 18 October 2023, 10:00 AM
Air strikes on a Gaza take a deadly toll
Egypt condemned "in strongest terms" the air strike on the Baptist Al-Ahli hospital in Gaza. The death toll from the bombing killed over 600 people.
The Baptist Al-Ahli hospital is but one of many civilian targets which has included a refugee camp and schools. The bombing of the Bapitist Al-Ahli hospital seems to be from a rocket fired by insurgents within Gaza.
There is concern the denial of water, food, medicine and infrastructure destruction of entire city blocks has caused sufference to the population which authorities within Israel and across the world are well aware of. For this reason, there is request for humanitarian aid to get through the border.
No one wants terrorism. Either way. Do they?
GAZA ON THE ABBYS
Updated 17 October 2023
In Gaza, doctors are facing severe challenges as water supplies dwindle and hospitals run low on power. Over 400,000 displaced people are seeking shelter in the south, some attempting to cross into Egypt. Iran and Hezbollah have issued threats of intervention. Hamas has released a video of a hostage taken at a music festival. The Israeli military reports around 199 hostages taken into Gaza, while Hamas claims they are holding between 200 to 250 hostages. New Zealand is offering $5 million to address urgent humanitarian needs in the region.
Is there a Spiritual warefare taking place in Gaza and Israel? With the ground assault imminent, the corridors of safety on the edge of closure, the borders continually shut and people's option for life ebbing away… with the protection of precious families seemingly abandoned. Hope diminishes with every hour.
Hell must be like… having your children in Gaza right now.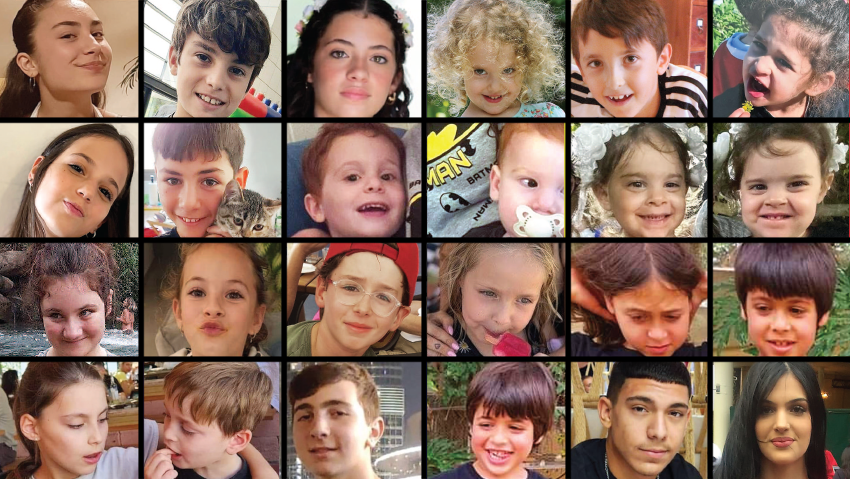 GROUND ATTACKS IMMINENT – RESIDENTS TRYING TO FLEE
Updated 14 October 2023.
14/10/23 9:55 AM
There are incursions of Israeli tank units into Gaza with word that they are attempting to rescue of hostages. The full ground attack however can happen at any time. The residents where warned they would have 24 hours to leave with no notice of when the 24 hours was up.
The leaflet drop from the IDF (Israel Defence Force) read:
The warning from Israel reads:
The Israeli Army dropped thousands of
To Gaza Residents
Terroritst organisations launched a war against the state of Israel
Gaza city has turned into a battlefield.
You have to leave your homes immediately and head south of Wazzi Gazza
For your safety do not return to your homes unitl further notice from the Israel Defence Forces.
Leave all public and known shelters in the city of Gaza.
For those of the 1.1 Million in the area that can not get out, or did not get out in time, we can only hope the 24-hour clock is stopped.
From an IDF officer – "When a School harbours a millitant, it is not a school. When a hospital harbours a millitant, it is not a hospital. When a Mosque hold millitant weaponry, it is not a Mosque."
Background: On Friday, Israel's military ordered around one million Palestinians in northern Gaza to evacuate towards the southern part of the area amid an expected ground invasion against Hamas. This unprecedented order sparked a mass exodus from northern Gaza and has been met with criticism from the United Nations, who warned of the calamitous impact of telling almost half the Gaza population to flee en masse.
Families with their possessions packed in cars, trucks and donkey carts fled from Gaza City, the largest city, as airstrikes continued to relentlessly hammer the territory. While Hamas urged people to ignore the evacuation order, some Palestinians hesitated to leave out of fear that nowhere was safe in the tiny territory.
The situation in Gaza is becoming increasingly dire, with scarce food, water and medical supplies and under a virtual total power blackout. Nebal Farsakh, a spokesperson for the Palestinian Red Crescent in Gaza City, broke into heaving sobs as she stressed that the only concern now is simply, if they will survive. On the other hand, Israel's military claimed that its troops had entered Gaza on temporary raids to battle militants and trace some 150 people abducted in Hamas's brutal surprise attack nearly a week ago. Meanwhile, Hamas informed that a number of people were killed when warplanes attacked the cars fleeing south.
05:11 am
Human Rights Watch has determined based on verified video and witness accounts that Israeli forces used white phosphorus in military operations in Lebanon and Gaza on October 10 and 11, 2023, respectively.
The use of such incendiary weapons puts civilians at risk of serious and long-term injury.
Israel's military said it "wasn't aware" of the use of white phosphorous in Gaza.
The videos show multiple airbursts of artillery-fired white phosphorus over the Gaza City port and two rural locations along the Israel-Lebanon border.
White phosphorus, which can be used as a smokescreen or a weapon, has the potential to cause civilian harm due to the severe burns it causes and its lingering long-term effects on survivors. Its use in densely populated areas of Gaza violates the requirement under international humanitarian law that parties to the conflict take all feasible precautions to avoid civilian injury and loss of life. It also highlights the need to reexamine the status and adequacy of Protocol III of the Convention on Conventional Weapons (CCW), currently the only international law dedicated to governing incendiary weapons.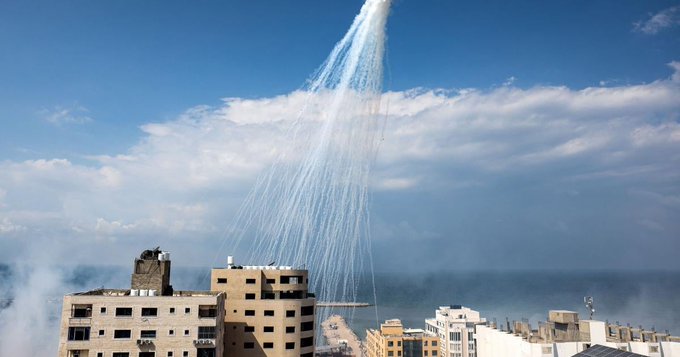 AIR STRIKES BETWEEN ISRAEL AND GAZA. ISRAEL TANKS AND 300,000 THOUSAND SOLDIERS INVOLVED.
Updated 13 October 2023.
13 October 2023 11:00 AM
Israel has bombed and disabled the main Syrian airports at Damascus and Allepo intended to halt the flow of weapons. Gaza health service announces the health system is in rapid decline. Significant bombings has turned hospitals and medical centres to soot. Requests for a humanitarian corridor to help the people of Gaza have not been responded to.